Outdoor TV cabinets may seem like basic furniture for keeping your TV. However, these enclosures offer several benefits, including protecting your TV from damage and improving your outdoor experience.
A TV cabinet is a must if you want to transform your quiet and boring space into a fun filled area where you can spend time alone or with the family. You could enjoy the game while preparing delicious barbecue; imagine all the possibilities. Today, we'll discuss three ways you can use an outdoor TV cabinet.
1. Wall-Mounted Outdoor Cabinet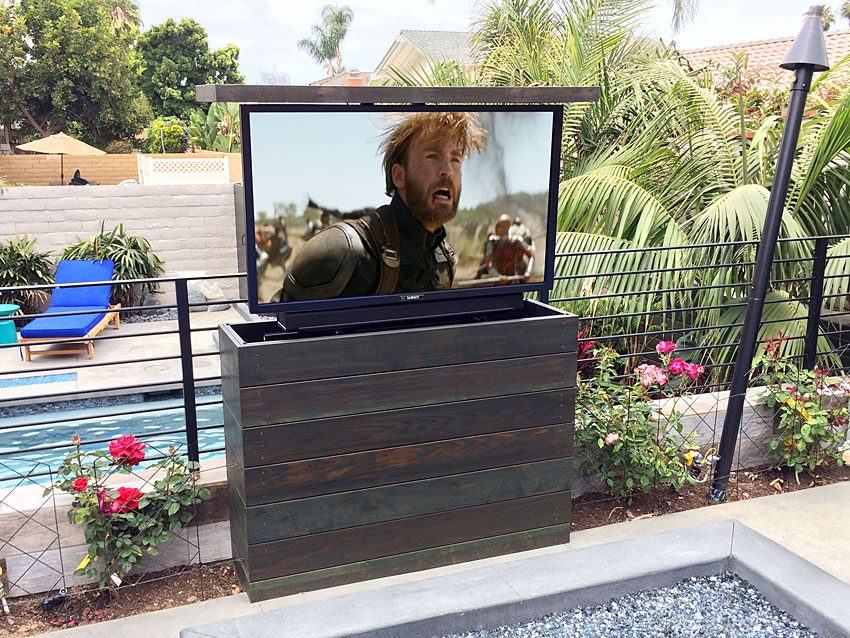 Outdoor wall mount TV cabinets are made to be mounted using a mounting bracket straight to a wall.
These types of cabinets come in a variety of styles. There are cabinets with transparent front screens that shield your TV from damage. On the other hand, some TV cabinets need to be manually or automatically opened and closed.
2. Screened Porch Outdoor Cabinet
A screened porch is the closest thing to having an interior room outside. This screened porch serves as an outdoor living area, complete with a TV mounted over the fireplace. The retractable TV lift system protects the unit from the outdoor elements. Moreover, this setup will give you a ton of extra living space.
However, it doesn't appear to provide much insulation from the cold, so it is not the best configuration for a colder area.
3. Outdoor Cabinet Underneath a Pergola
A pergola is a style of outdoor furniture that is connected to this outdoor TV enclosure. Since the pergola is open, it's perfect for a warm summer afternoon. Additionally, you may shut the hutch's doors when you're done watching TV to protect it from the harsh elements.
Although there are no DIY plans for this specific setup, you could always create something similar.
Where are the best places to place my Tv outside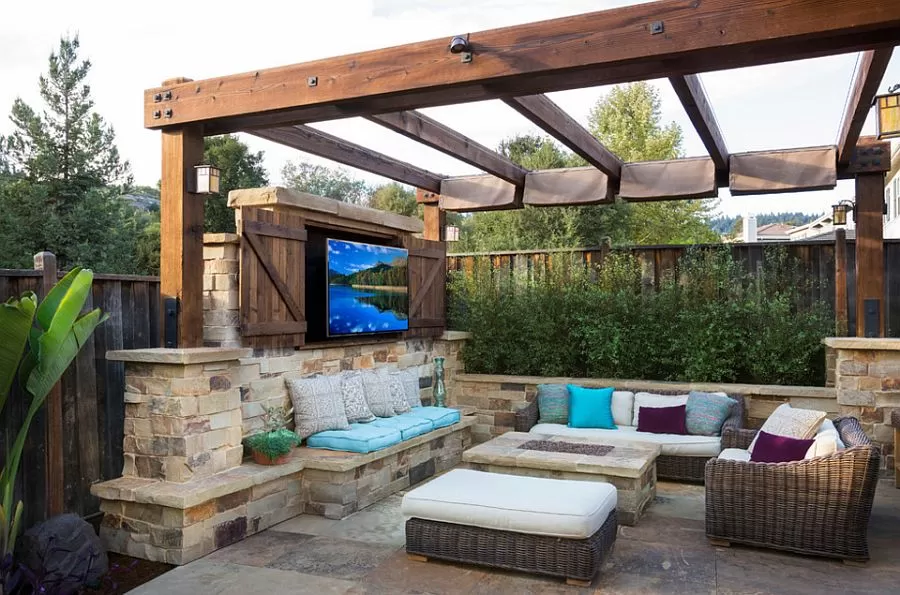 An outdoor fireplace can serve as a functional focal point for your TV to entice guests. If you plan to use an outside TV as the centerpiece, pay close attention to how people will sit. We don't advise arranging the seats in rows. It would be best to create a relaxed sitting setting to keep everyone comfy.
For this reason, it works well to arrange the chairs in a U shape since it allows the TV to be mounted on a wall that faces where every person is seated.
A barbecue station is another excellent place for an outdoor TV.  Install an outdoor TV beside your grill on a wall or have one made into a wall-hung cabinet as part of your design for an outdoor grill station.
Outdoor kitchens naturally attract people. So, placing a TV right there is a great way to keep your guests entertained. You'll have a tempting hangout place with a television attached to your outside grilling area, and you won't miss your favorite shows while you're cooking.
A luxurious way to install your outdoor TV is over an outdoor hot tub or bathtub near your pool, so you can watch TV while you relax and take a bath.
Since the electrical unit is close to a water source, ensure you hire a qualified electrician to install the TV to meet optimal safety regulations. Purchase a waterproof remote control as well.
An outdoor TV can be a fun addition to a feature wall in your backyard. Surrounding your outdoor TV with natural materials, like this is one of the most aesthetically pleasing ways to ensure that it will fit effortlessly into the space.
Decorative elements, such as worn wood, natural stone, and slate, can help balance the TV's appearance and make the space feel cozier and enticing.
You can even create a recess in the wall to fit the unit and all the components. So, if you have a boring patio with a feature wall, an outdoor TV can uplift the whole space.
Tips for Placing an Outdoor TV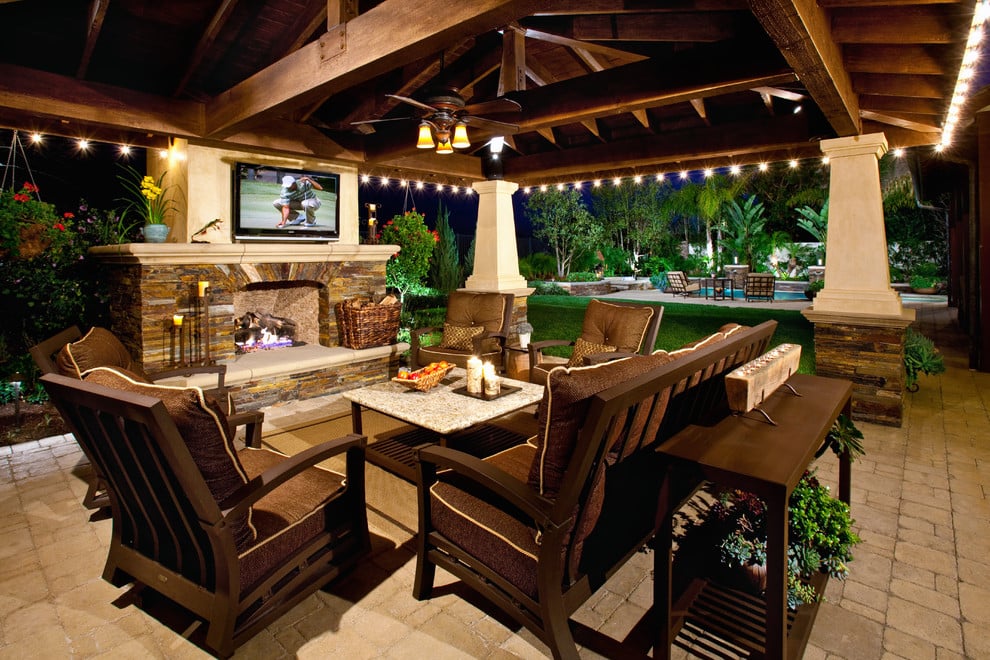 When picking a spot for an outdoor TV, it's important to remember the six-foot rule. This means that a minimum of six feet should separate your television from any structures that can affect the image quality. Your TV unit could overheat if it is too close to a heat source or water source.
When installing your TV outdoors, you still need to follow some basic TV installation rules.  For instance, you should check to see where you can put your TV so that most people can watch it. You need to find the right viewing angle so your guests can view the TV from different areas in your pool, backyard, porch, etc. Additionally, ensure your TV is mounted high enough that you can watch your content without obstruction.
Although outdoor TVs feature anti-glare technology, you should try to avoid the sun's rays. One option is to place it in a shady area, such as a patio or porch. Additionally, you should mount it facing south. As a result, you're never staring directly into the sun when watching TV, and the sun is never shining directly on your TV.
Conclusion
There you have it: three fresh ideas to mount your TV outdoors. If you're not up for all the work required to construct an enclosure for your TV, the best option would be to order a pre-built television cabinet! You won't need to look for tools and materials.
Instead, all you have to do is research your options, decide on your budget, and verify that the product is suited for your needs. You could also consider a retractable TV lift for an automated experience. Lastly, make sure the TV cabinet you pick is big enough for your TV unit.